I've been flying model planes for more than 40 years. Not only flying but the construction of engines has always fascinated me. I designed and constructed the first 4-stroke engines, a 1-cylinder and a 5-cylinder radial engine 25 years ago during my training as a cutting machine mechanic. The well-known 14-cyl double row radial engine followed at a later date, the 12-cylinder-V-engine and finally a 9-cylinder with encapsulated valve operation..
Even then, the engines attracted a lot of interest at exhibitions and trade fairs.
This is why I decided to give all interested parties the chance to construct models of my engines for private use. From the outset I have attached great value to simple constructions wherever possible, but at the same time a tried and tested design of the engines.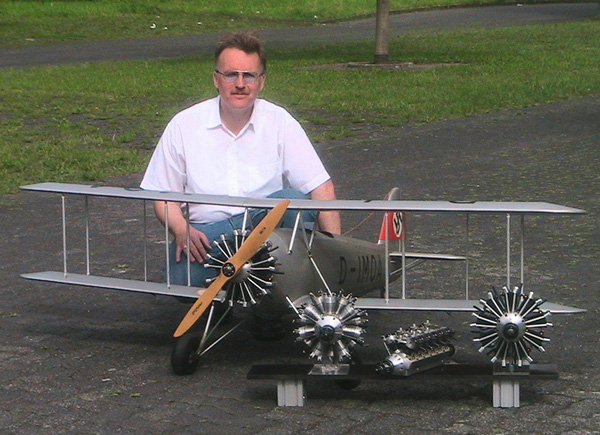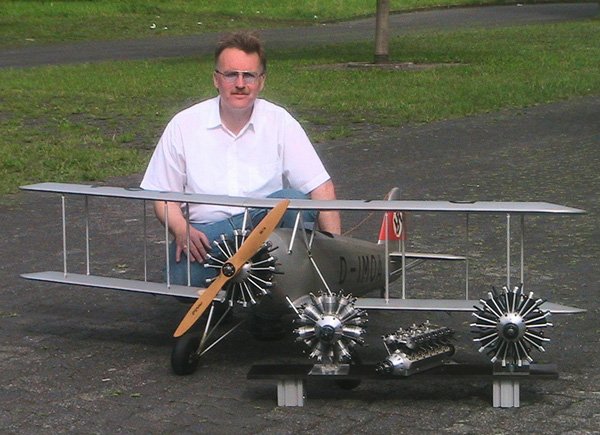 Today, hundreds of plans have found enthusiasts. Now and again I receive photos of engines that have been successfully copied.
Besides my full-time job as workshop foreman in a machine construction company my engine design and development occupies a large part of my free-time.
As a result of continuous development of the engines, well-engineered products are available to the model building enthusiast.